"Delhi's air quality is equivalent to




smoking 50 cigarettes a day"

"Delhi is most polluted city,




according to World Health




Organization"

Delhi 's air quality has shooted reached




999

"Delhi has become gas




chamber"




"Delhi has been engulfed in a




dense blanket of smog"
You may be reading these lines so frequently for past few days.
India is second most populated in the world. Delhi, being the capital is overcrowded in terms of population, industries, vehicles etc. Delhi is witnessing dual issues at the moment, on one side it is progressing whereas on the other hand the environment is getting neglected. Finally, it has come to light that air pollution in Delhi is dangerously high and this was probably a wakeup call for policy makers as well as people to take responsibility and be more considerate towards our environment.
According to World Health organization, an estimated 6.5 million deaths were associated with air pollution in 2012. This is 11.2 % of global deaths. Also, 3 million deaths occur every year due to ambient (outdoor) air pollution. Air pollution is the leading cause of non communicable deaths. It is an invisible killer which causes deaths from lung cancer (36%),stroke (34%) and heart disease(27%).
Why we should be concerned with Particulate matter?
Pollutants which are strongly linked with public health concerns include  include particulate matter (PM), ozone (O3), nitrogen dioxide (NO2) and sulphur dioxide (SO2).The health risks associated with particulate matter of less than 10 and 2.5 microns in diameter (PM10 and PM2.5) are associated with health risks .Particulate matter is capable of penetrating deep into lung passageways and entering the bloodstream causing cardiovascular, cerebrovascular and respiratory impacts. Particulate matter was classified as a cause of lung cancer  by World Health organization.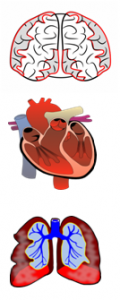 Health risks due to exposure to outdoor air pollution
25% – of all deaths and disease from lung cancer
17%of all deaths and disease from respiratory
infections
16% of all deaths from stroke
15% of all deaths and disease from ischaemic heart
disease
8% of all deaths and disease from chronic
obstructive pulmonary disease
Source: World Health Organization
Exposure to outdoor air pollution can lead to reduced lung function, respiratory infections and aggravated asthma. Adverse birth outcomes are associated with exposure to outdoor air pollution like  low birth weight and pre term births. There are also evidences suggesting that outdoor air pollution may affect diabetes and neurological development in children. There might be a scenario where global burden of diseases due to outdoor air pollution may rise significantly.
Are you feeling these symptoms these days
Burning sensation
Persistent cough
Irritation in throat
Choking feeling
Irritation in nose
These may be due to the outdoor air pollution
What caused this ?
Outdoor air pollution basically originates from natural and artificial While the natural
sources may be confined to forest fires and dust storms, the air pollution caused by
artificial sources poses a far serious threat to society.
Human activities that are major sources of outdoor air pollution, include:
-Badly maintained vehicles on already congested roads
-Heat and power generation (oil and coal power plants and boilers)
-Industrial facilities (manufacturing factories, mines, and oil refineries)
-Municipal and agricultural waste sites and waste burning
-Excessive dust from adjoining construction sites
-Unstable power supply compels people to use diesel generators for prolonged hours
-Burning of agricultural waste.
What next?
Controlling outdoor air pollution is a multi sectoral initiative where policymakers, stakeholders and community should work together to combat this serious threat. Not only will it reduce the air pollution but will be a significant contribution towards climate change and making future better for upcoming generation.
Some interesting initiatives by other countries
South Africa, Peru,Mexico
bicycle-friendly cities;
pedestrianization;
mass rapid transit;
increased station connectivity
transport demand management
safe and hygienic roads and public transport
improved non motorized transport facilities
heightened safety regulations;
improves organization of the country's paratransit (minibus and taxi) system