Whole Nation celebrates 1st week of September as 'National Nutrition Week'. And now National Nutrition week 2018 is well and truly underway. As per to FHTS, agenda of celebrating this Nutrition Week is "Choose healthy life with nutrition". In honor of National Nutrition Week Foundation of Healthcare Technologies Societies (FHTS) celebrated National Nutrition Week for spreading the awareness about the importance of nutrition and eating nutritious foods, water sanitation and hygiene and drug abuse. FHTS celebrated this week at 'Government Boys School' at Block-3, R.K. Puram of South Delhi on 5th of September 2018 respectively.
A total session of 2 hour and 30 minutes were conducted by Bhavya Malhotra, Shruti Sharma, Dr. Menka Loomba, Ankita, Poulami Hazra, Rajat Kumar Sharma, Kamakshi Wason, Mansi Rai and Ankur Dubey the team member of FHTS at school and in the session there were 333 students of std. 6th, 7th and 8th took part and being addressed about the importance of nutrition and eating nutritious foods, water sanitation and hygiene and drug abuse.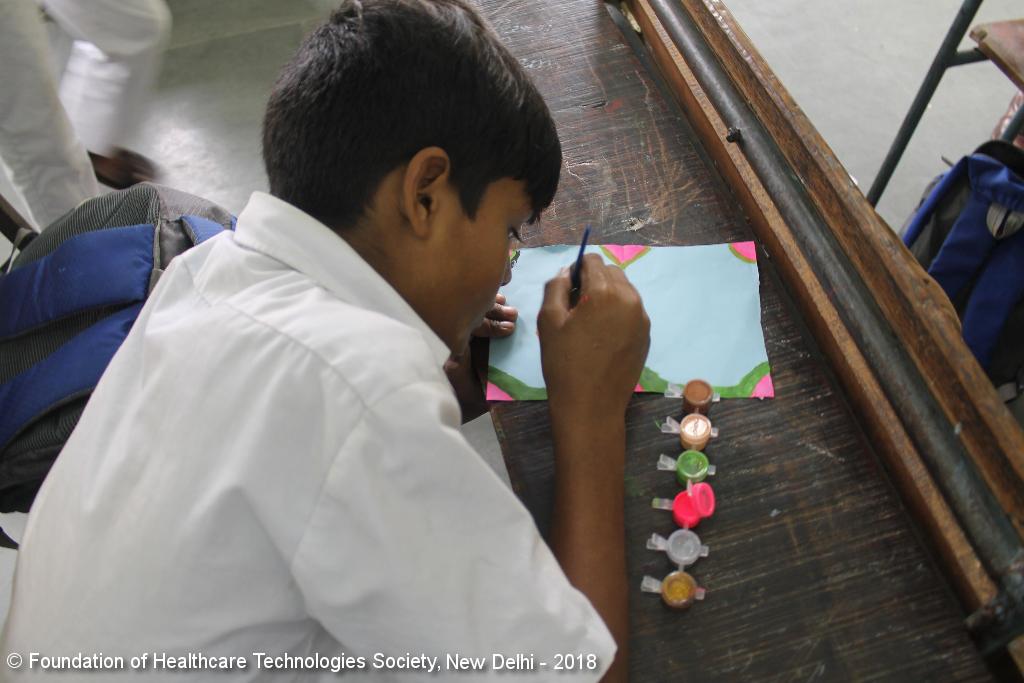 Celebration started with the introduction of FHTS and the team of Fhts by the team member Bhavya Malhotra then drawing competition held among students.
During the celebration session was taken by Shruti Sharma, Dr.Menka Loomba and Rajat Kumar Sharma on various topics.
Shruti Sharma took the session on the Importance of Nutrition in which she educate the student about: what is Nutrition? Instilled the importance of consumption of vitamins, minerals, protein and water in our daily food habits; what kind of food we should eat daily i.e. vegetables, fruits, pulse, whole grain & water. Shruti also narrated a story through video presentation by which she tried to tutor students for avoiding junk foods and also discussed about the disadvantages of consumption Junk food. At the end of her session she interacted with students and gave the message "with consumption of healthy foods we should also live healthy'.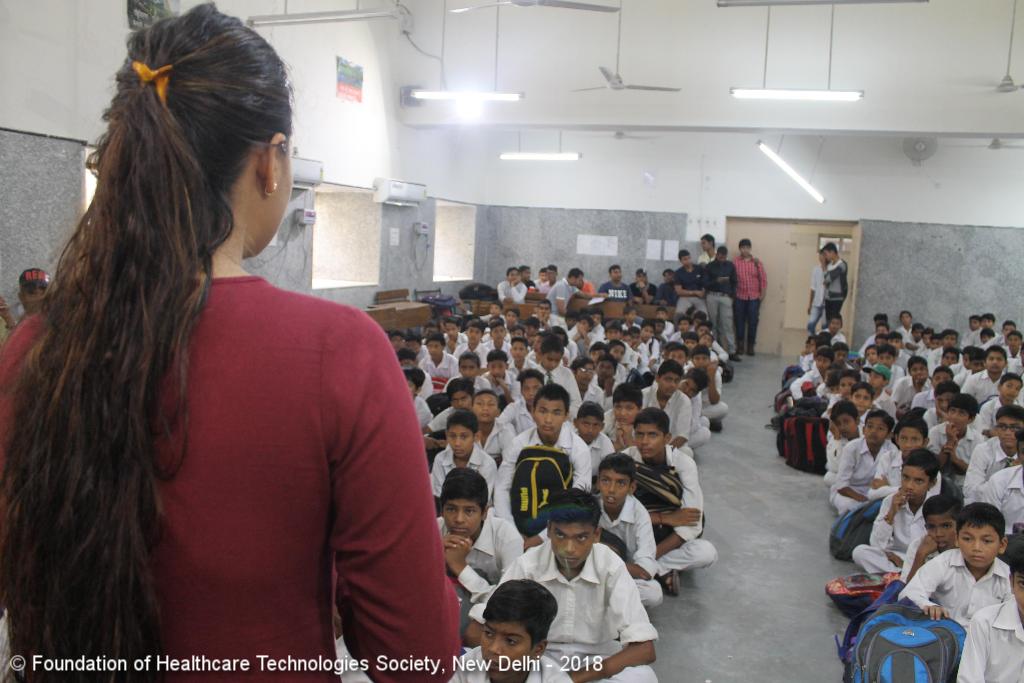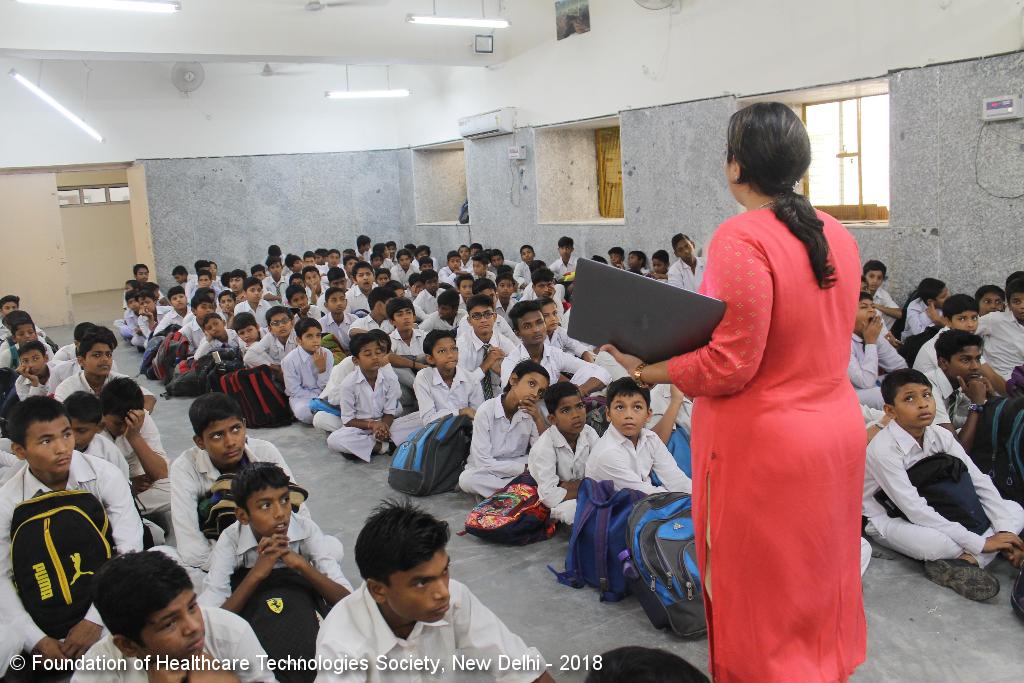 Dr. Menka Loomba took a session on the topic spreading awareness on "Water, Sanitation &Hygiene" including both personal and environmental hygiene. During her session she raised awareness of not to store drinking water in plastic container as it is very harmful for health; How to purify drinking water i.e. by boiling of water, by addition of an alum to purify the water as alum helps in process of sedimentation of impurities in water. She also showcased the steps for how to: wash hands and brushing techniques. At the end of her session she interacted with the students and asked some student to come to the stage and to perform the steps of hand washing and brushing technique learnt by them. Anshul (std.6th) and Pranjal (std. 7th) came to the stage and performed the steps very well. Fhts Team awarded both of them by putting badges of FHTS on their Shirt.
Rajat Kumar Sharma took session on the topic Drug Abuse. The agenda of this topic was "Say NoTo Drugs". Through the session Rajat tried to escape the student who are drug addictive and put his efforts in spreading the awareness of "SAY NO TO DRUGS". During his session he introduced what is drugs? Type of Drugs: legal and illegal including the example of legal drug i.e. Alcohol, Tobacco, Cigarette, prescription drug which also comes under legal drugs like Tranquilizers, Analgesics etc. and illegal drugs: Cannabis, Cocaine, heroin, LSD, Magic Mushroom etc. Discussed why do people use drugs; differentiated passion and addiction; factors responsible for drug addiction; effect of drug abuse on various groups i.e. individual, family, friends and society; effects of drugs on an individual based on psychological and physical factor.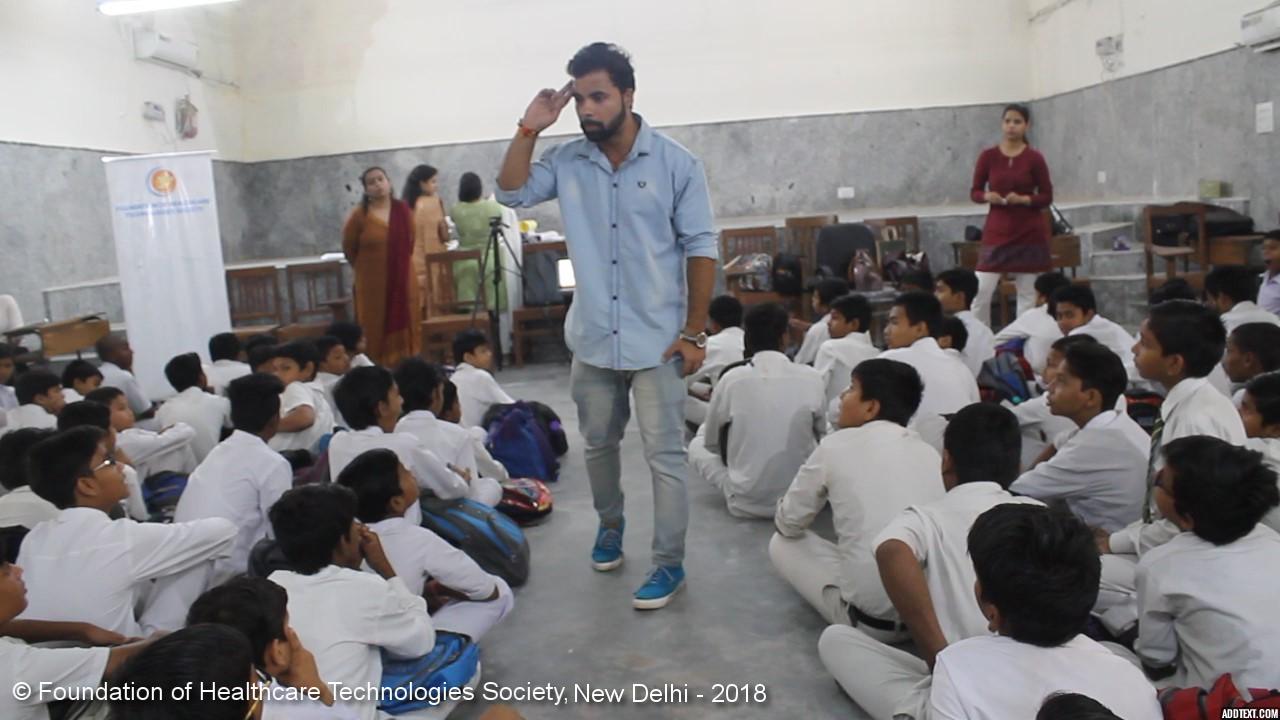 At the end of the celebration Mayank Singh(std 6th), Raj Singh(std. 6th), Shabir (std.6th), Zakir (std. 7th), Ajay (std. 7th), Nitish (std. 7th), Raushan Kishore (std. 8th), Abhay(std. 8th), Himanshu (std. 8th) were awarded on the basis of their rank 1st, 2nd & 3rd in drawing competition by painting, Glass Painting & Key Chains and certificates which were handmade by the team member of the creative corner under the RISE initiative at FHTS.
Decision of the winners were taken on the basis of Slogan, Drawing and Coloring.
Pledge session was taken by Kamakshi Wason and Mansi Rai team member of FHTS.
3 Pledge was taken by the students of the Government Boys School i.e.
"FHTS Ne Yeh Thana Hai, Nasha Mukt Bharat Bnana Hai."
"Swasthya Khaiye, Swasthya Rahiye"

"Plastic Hatao, Jeevan Bachao"