What is Applied Health Informatics?
Application of information science and technology to public health practice and research
The Foundation of Healthcare Technologies Society (FHTS) programs are unique, interactive, first of its kind, 6 month training programs.
The program trains individuals to apply academic skills into real world to solve challenges of the 21st century.
Individuals learn to identify research gaps, generate new knowledge through use of appropriate study designs, analysis of quantitative and qualitative data and interpretation and dissemination of research results. Individuals also have the ability to conduct their own research under the guidance of a research expert.
Why the Need?
Information Communication Technology (ICT) has proven to be a strong public health tool.
Today's internet connectivity and (smart) mobile phone penetration offers tremendous opportunity to address population health challenges of 21st century.
Rapidly developing scientific field that deals with the data storage, retrieval and use of population data, information and knowledge for evidence based decision making.
With information and communication devices available even in remote villages, there is a potential that these technologies could revolutionize health service delivery for an efficient and people-centered health care system.
Program Benefits
To turn ideas into executable actions.
Ability to involve in funded research projects to gain real research experience.
Show research experience to better qualify for higher education.
Opportunity to publish research paper in International peer reviewed journal.
Opportunity to present the research findings in high quality conferences that will bring visibility.
Opportunity to be mentored by National and International research experts.
Skills students acquire
Understanding of data, information and knowledge.
How to make data meaningful?
Factors to consider when creating health apps.
Assess quality of Health Information on internet.
Public health dashboards.
Evaluation of health technologies.
Design and develop innovative solutions.
Unique Program Features
Flexible, self-paced.
Live synchronous
Weekly interactive lectures
Case studies
Weekly discussions.
Problem solving exercises
Research Project
Research advisor assigned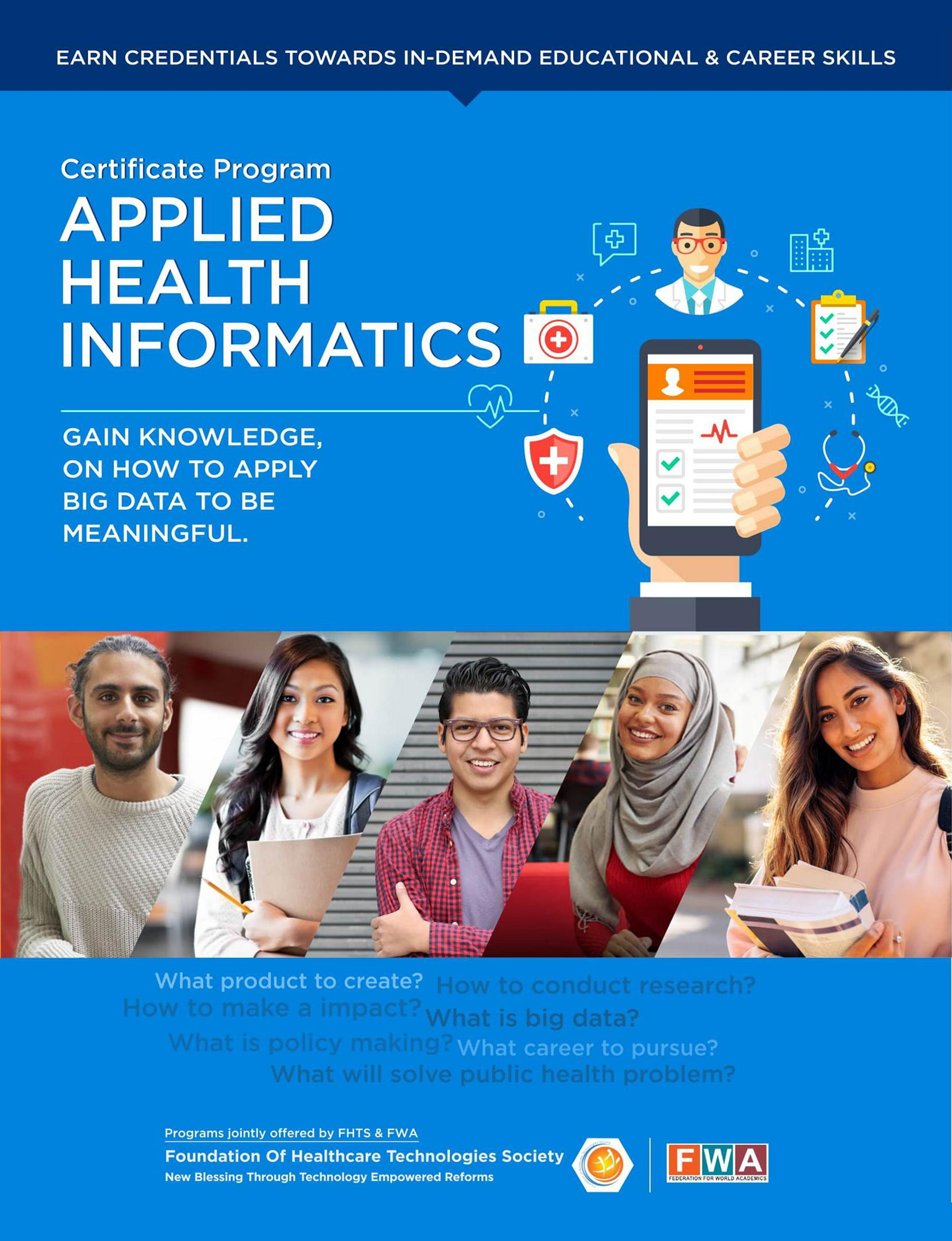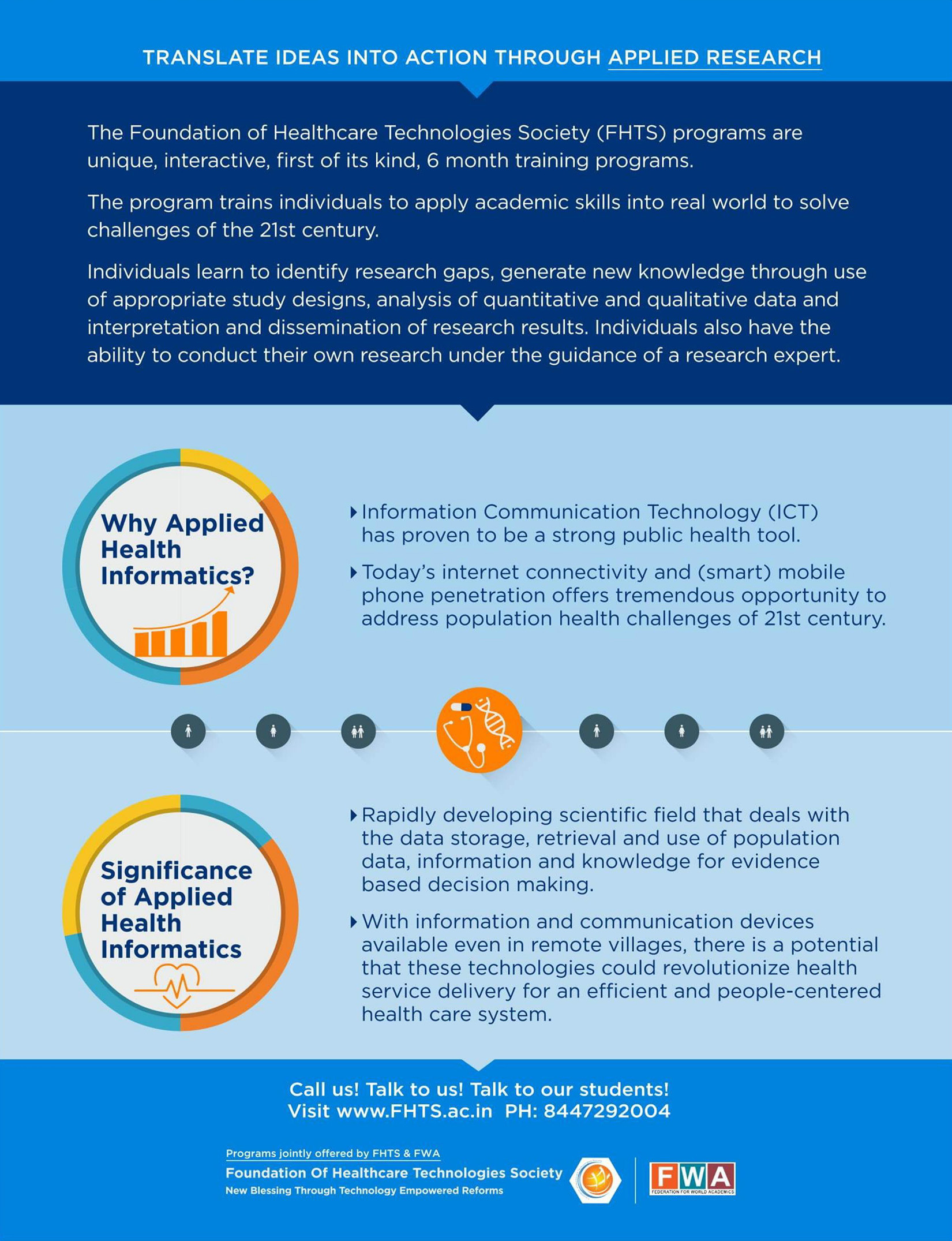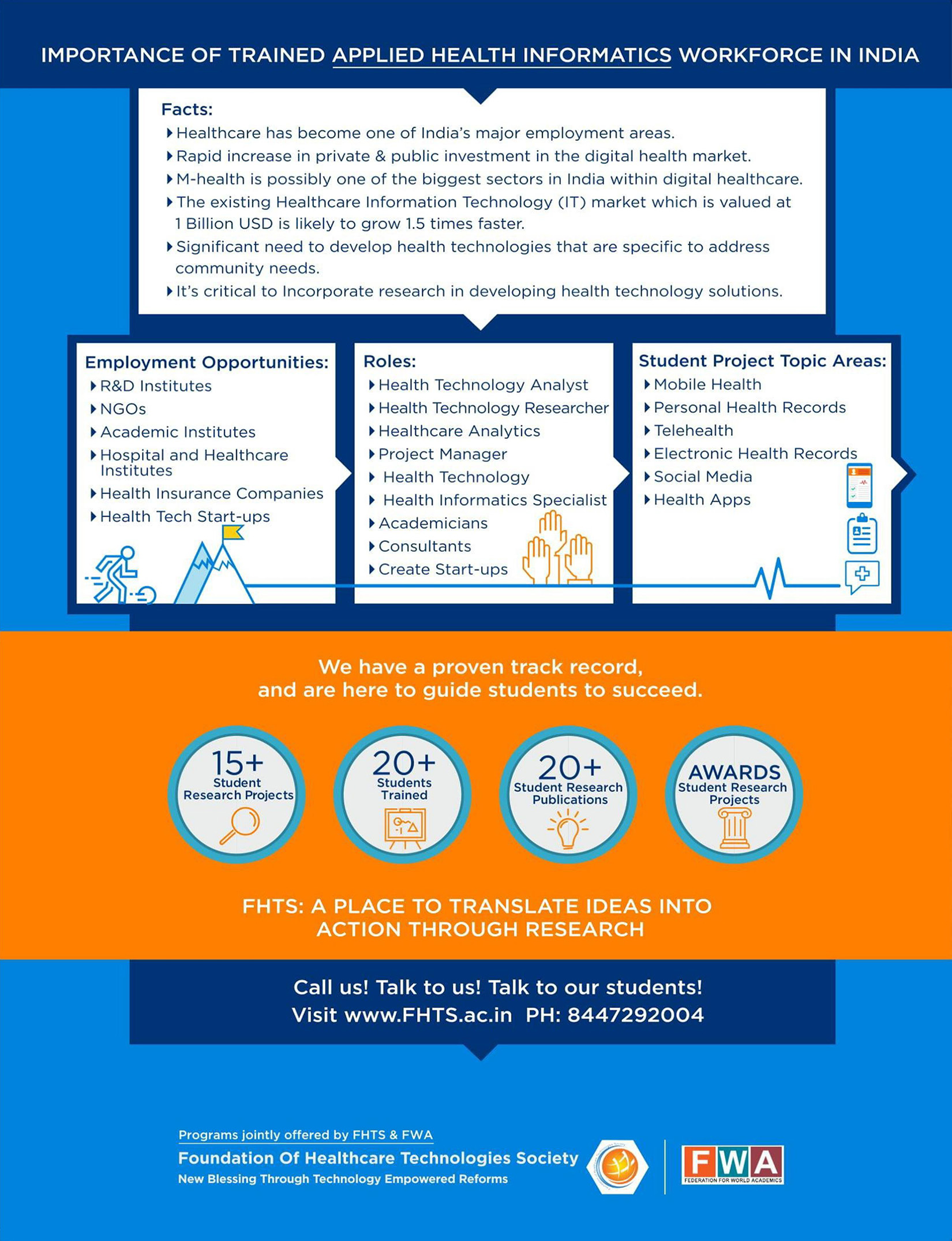 Professionals, Graduates and Undergraduates from:
Medicine, Dental, Environment Science, Biology, Microbiology, Biochemistry, Home science and allied health, Public Health, Public Health Management, Health Management, Healthcare IT, ICT, Computer Science, MCA, BCA, Pharmacy.

Apply Online
Fill up the form and submit your application.

Review and Acceptance
Receive decision letter about acceptance/rejection to the program.

Fee Payment
Pay program fee either online or through Demand Draft/Cheque.

Account Creation & Access
You will receive instructions about your username and password to log into the FHTS Learning Management System.

Instruction and Training
All instructions on how to use the system will be provided.

T-10 & Launch
Welcome to FHTS and begin your classes.
| | |
| --- | --- |
| Program Duration | 6 Months |
| For Indian National Students | INR 25000 |
| For International Students | USD 1000 |
Program Outline
The program will teach to formulate research question, utilize appropriate study designs, collect and analyze quantitative and qualitative data and interpret and disseminate the research findings through National and International presentations.
The program will cover wide range of topics including basics of research methodologies, defining hypothesis and research questions, importance of data and making it meaningful, relevant study design methods, qualitative and quantitative data and publishing research manuscripts in scientific high quality peer reviewed journals.
Course Structure
24 online classes, one class per week
12 Lecture sessions
12 sessions including Quiz, Assignments, discussions
Mandatory Research Project starting 4th week