ABOUT THE FOUNDATION OF HEALTHCARE SOCIETIES
The Foundation of Healthcare Technologies is a National Society and is the first of its own kind that integrates multi-sectoral segments through use of innovative informatics platforms for an overall improvement of population health in underserved settings.
Economic situations in developing countries have resulted in increased disparities in terms of health, economic growth, and access to resources that are valuable to the overall growth of the populations. The foundation aims to establish a center of excellence in developing a skilled workforce in the area of informatics through human resource development, capacity building, innovative research, translation and dissemination of research findings into practice, and health systems strengthening.
The foundation promotes innovative ideas that can be practiced at the grassroots level so that solutions that are provided can be personalized, evidence based, research driven, context specific, and goal oriented and culturally adaptable to meet the needs of the diverse group of users. The foundation forms collaborations and partnerships across boundaries to address the growing challenges for providing better living to the individuals, families and the environment they live. We aim to build a unique environment that will bring innovations across multiple sectors resulting in a healthier ecosystem.
ABOUT PARUL UNIVERSITY
Parul University a leading private university of Sanskriti Nagri (Vadodara), Gujarat is the one- stop destination for meeting the academic needs of students making it an educational hub catering to fulfilling infinite dreams of students globally. Parul University is ranked among the top 50 private universities in India for leading innovation achievements by ARIIA 2020. Parul University is an amalgamation of 35 Institutes offering, 250+ programs in a 150+ acre fully equipped campus housing 28000+ students, 2000+ International Students from 56 Countries, 2500+ faculty members & providing in-campus residential facility to 7000+ students making it India's Premier Multidisciplinary University.
ABOUT PARUL INSTITUTE OF PUBLIC HEALTH
The Parul Institute of Public Health (PIPH) aspires to evolve as a focal point of multi- disciplinary education, research, training and advocacy on public health; which is gaining prominence in recent years. Instituted in 2016 as a constituent of Parul University; PIPH emerged as a leading institute for imparting public health education. Over the years, the institution has built a well-established network with public, private and governmental institutions both at the national and international levels.
The institute aims to improve the health of people, strengthen the health system and policies through education, training, research, and evidence-based advocacies. The institute offers multidisciplinary programmes such as Bachelor of Science in Public Health, Masters of Public Health (MPH), Master of Hospital Administration (MHA), and Doctor of Philosophy (PhD) in Public Health.
ABOUT THE COURSE
Population Health Informatics addresses the growing opportunity to use technology to implement evidence-based solutions for the improvement of population health outcomes. It deals with resource devices, methods, and institutions required to optimize the acquisition, storage retrieval, and use of information in health care settings.
Program Benefits
The program focuses on how to operationalize informatics solutions to address important public health challenges impacting individuals, families, communities, and the environment in which they live. Students will learn to use technology at the intersection of clinical care and health sciences in order to strengthen efforts for preventive care at the population level. The program offers practical coverage of critical topics such as big data, cloud computing, mobile health, surveillance, and visualization all from the perspective of the end-user.
Learning objectives
Through course students will learn:
To understand the role of technology as an enabler to enhance population health outcomes.
To effectively manage, handle and utilize healthcare data.
To analyze and evaluate population informatics problems in terms of data, information, and knowledge.
To design and develop multifaceted technology-enabled interventions to enhance the well-being of individuals, families, and the communities they live in.
Evaluate health outcomes related to digital health interventions.
Program duration: 12 months (9 months of teaching and 3 months of experiential learning)
Unique Program Features
Flexible
Asynchronous and asynchronous learning
Weekly interactive lectures
Case studies
Weekly discussions
Problem-solving exercises
Research project
Mentorship and Experiential Learning
Discussion forum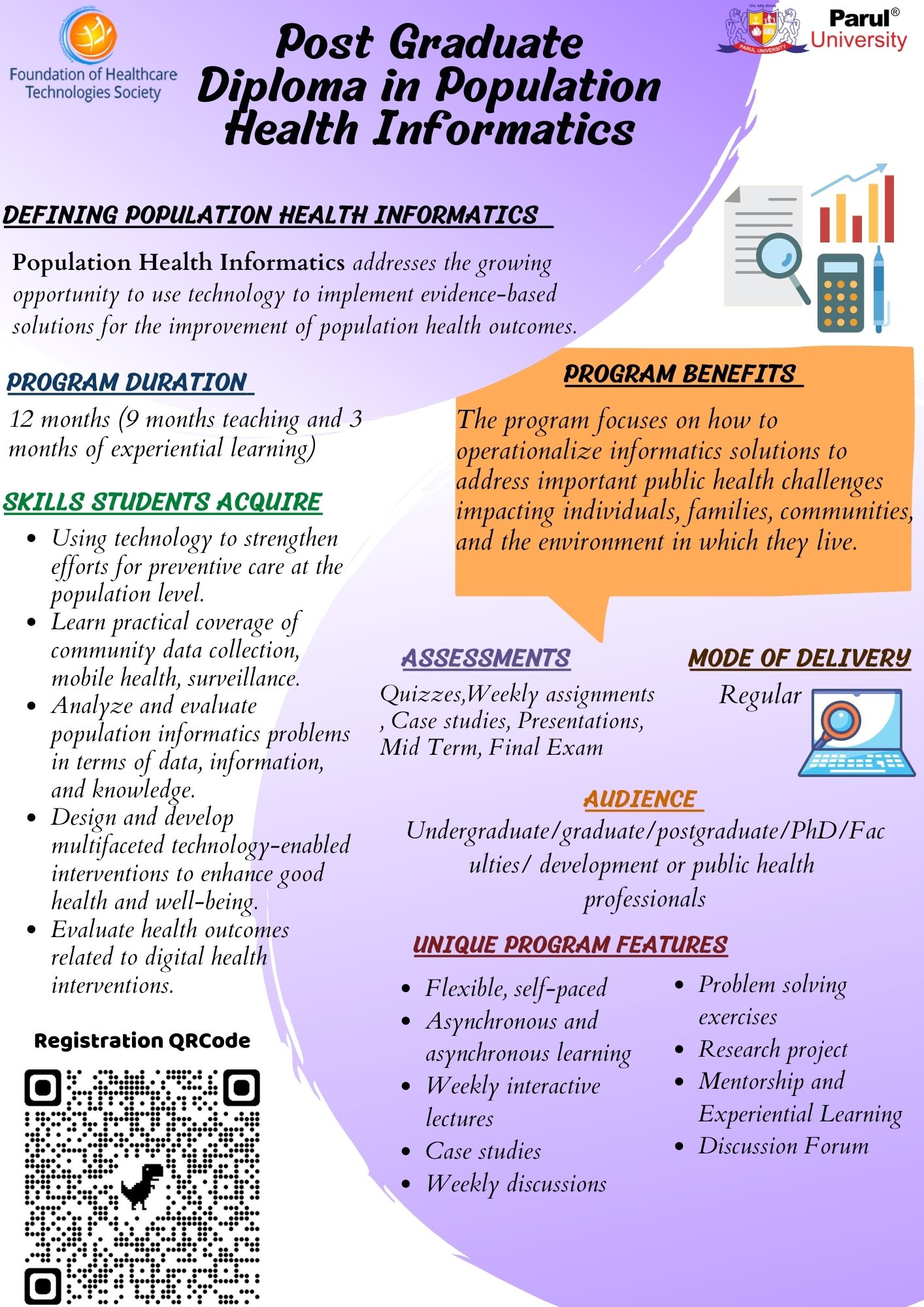 WHO CAN ATTEND?
Any undergraduate/graduate/postgraduate/PhD
Development or Health professionals working in health research
Newly joined faculties in a public health discipline

Apply Online
Fill up the form and submit your application.

Review and Acceptance
Receive decision letter about acceptance/rejection to the program.

Fee Payment
Pay program fee either online or through Demand Draft/Cheque.

Account Creation & Access
You will receive instructions about your username and password to log into the FHTS Learning Management System.

Instruction and Training
All instructions on how to use the system will be provided.

T-10 & Launch
Welcome to FHTS and begin your classes.
| | |
| --- | --- |
| Program Duration | 12 months (9 months of teaching and 3 months of experiential learning) |
| For Indian National Students | INR 25,000 |
Program Duration
12 months (9 months of teaching and 3 months of experiential learning)
Course Curriculum
Module
Topic
Module 1
Population Health and its determinants
Module 2
Overview of Data, Information, and Knowledge
Module 3
Data Exchange and Interoperability
Module 4
Population Health Surveillance
Module 5
Design and Development of Population Health Information
Systems 1
Module 6
Design and Development of Population Health Information
Systems 2
Module 7
Case study I
Module 8
Evaluation of Population Health Informatics Systems
Module 9
Lab component (Usability and Heuristic Evaluations)
Module 10
Tailored Health Communication
Module 11
Evaluating Quality of Health Information over the Internet
Module 12
Electronic Health Records
Module 13
Workshop on Open Source Health technologies
Module 14
Personal Health records
Module 15
Mobile Health: Opportunities and Challenges
Module 16
Electronic Data Collection Tools
Module 17
Ethical Issues in Population Health Informatics
Module 18
Health Technology Interventions
Module 19
Health Technology Interventions
Module 20
Electronic Data Collection Tools
Quadrant 1 E-tutorial Topics
Weekly online, interactive topics supported by applications of theoretical learning to real-world
scenarios in form of case studies. Mentorship and experiential learning will be critical features of
the program.
Quadrant II- Weekly Reading Material
Case studies
Presentations
Research paper readings
Quadrant III- Discussion Forum
Weekly discussion topics to facilitate knowledge exchange, discussion of ideas, and
research
Quadrant IV-Assessments
Quizzes (20%)
Weekly assignments (10%)
Case studies (10%)
Presentations (5%)
Mid Term (25%)
Final Exam (30%)